Olympic Peninsula, Wash.
NPS Website
;
Local Website
WHAT IS IT?
Nearly 1 million acres of Washington State's Olympic Peninsula. The Park boasts a tremendous ecological diversity that includes the United States' only temperate rain forest, over 60 miles of Pacific coastline and the towering peaks of the Olympic Mountains.
BEAUTY (9/10)
Within Olympic NP's vast boundaries lie many distinct ecological zones each astoundingly beautiful in their own right: four types of forests, rugged coastline and snowy mountains. It seems impossible that such different places stand side by side but here the amazing is the expected.
The imagination envisions Olympic NP as a stiflingly dense green forest where it always rains. The Park's temperate rain forests, Hoh and Quinault, fulfill that vision. The cool air and permanent hanging mist mocks your senses; you see a jungle but you do not feel the warmth, you do not sweat, you do not see monkeys, you do not hear tropical birds, you do not taste the air's stickiness.
The forests change as the elevation increases. The heavy rains, over 250 inches per year, allow the lowland and montane forest trees to thrive. The trees, Firs, Spruces, Cedars and Maples grow to monstrous proportions. The trees gradually thin out as they rise to subalpine elevations. The meadows come alive with colorful wildflowers, glacial lakes and sweeping vistas. The forests' claustrophobia disappears and you are on top of the world.
The Olympic Mountains rise to heights above the forests effectively blocking the copious amounts of rain from all in their eastern shadow. The mountains are not particularly tall, they do not reach 8,000 feet, but they are steep and snowy. The isolated Olympics are the world's snowiest mountain range.
The northern Washington Pacific Ocean whips onto jagged coastal cliffs depositing an endless stream of heavy driftwood and other debris; the moody tides envelope much of the coast as they swim in and out of huge rocks and smooth sand.
Olympic NP's beauty has but one spoiler: the hundreds of miles of clear-cut forests and harvested trees that surround its pristine interior.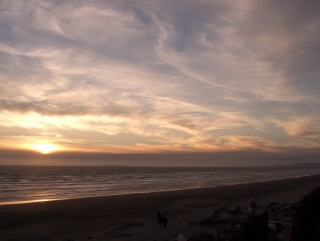 HISTORICAL INTEREST (2/10)

We learned little in the Park's VCs about its history. It is the modern-day history though that tainted our trip mostly through unsubstantiated thought processes and word association. Let us explain.
When we hear the word rain forest, we think about the mass deforestation in the Amazon. The entire drive along Olympic NP's western stretch, the 150 or so miles from Aberdeen to Port Angeles is bordered by tree farms. Of course, the Washington loggers replant their trees and advertise their positive economic effects but it still difficult to appreciate the natural wonder and beauty of trees when your journey in passes rows of harvested wood and hundreds of logging trucks. At the same time, we know that replanted logging forests are much different ecologically from old growth forests. We are just glad that are still able to appreciate Olympia NP's dense arboreal life.
CROWDS (3/10)
The crowds we camped around at Olympic NP were the worst of our trip. The first night we stayed at a beautiful Pacific Ocean beach campground at Kalaloch. Radios blared from the time we arrived, 5:00pm, until 1:00am. At 12:30 a raccoon, presumably spooked by the partying college students, jumped onto our tent. Michael did his best pinball bumper impression and knocked him off. Thankfully, the wily bandit quickly scurried away. We think he tripped on our black tent anchoring rope. The night before, at 1:30am, a man across from us had his cooler's contents stolen by rowdy kids.
The next night we stayed at what a Ranger described as the most peaceful car campground. No dice. The catchy melodies of Fleetwood Mac still haunt our waking hours. Our car camping at Olympic NP was devoid of natural sounds. No singing birds, no rustling trees, no serenity, no sleep.
We left the Park prematurely because of the unruly crowds. Why did we car camp and not go backcountry? Good question. We had aimed to hike into the rain forest but wanted to wait out the two days of heavy rain. The four-day forecast was looking good; we just had to make it through to Monday. We left by Saturday but things turned out well. Anacortes, Washington is a wonderful town.
EASE OF USE/ACCESS (2/5)

U.S. Route 101 nearly circumnavigates the Park. From Quinault in the southwest the road travels 70 miles north to Beaver where leaves the Pacific Coast trajectory and turns eastward. 70 miles later, after passing Port Angeles, Sequim and Gardiner, the road nears Port Townsend. Before reaching this wonderful small town, Route 101 turns southward and goes 70 miles to the town of Hoodsport, the gateway to Olympic NP's southeastern tip.
Eight spur roads branch off Route 101 and into the Park's interior zone. One from the southwest, one from the west, four from the north and one from the east, and one from the southeast. The western entries take you to the temperate rain forests, the others into mountainous terrain.
Olympic NP's 60 miles of Pacific Coastline are also accessed from Route 101. The Olympic Peninsula is a world unto itself. It is close to the Seattle-Tacoma metropolis but somehow very far away. The Park is easy to get into but so big, so dense, so steep and so hard to see.
CONCESSIONS/BOOKSTORE (2/5)
The Park has at least eight bookstores, none of which carries many books. The clothing, poster, book and knick-knack selection is not commensurate with Olympic NP's status as a classic American National Park destination.
COSTS (3/5)
Entry is $10 per vehicle. Most campgrounds charge an affordable $10 per campsite. Backcountry permits are $5 plus $2 per person per night.
RANGER/GUIDE TO TOURIST RATIO (5/5)

We lost count of Olympic NP's many visitor centers at eight. The eight that we visited all had at least one Ranger on staff and were very busy; Olympic NP gets a lot of tourists.
TOURS/CLASSES (6/10)
By the end of our journey through the park, we had collected a series of helpful handouts outlining hiking and camping possibilities and describing flora and fauna. Sometimes these coincided with the region of the park we were visiting; sometimes they didn't. Thing is, all of these informational gems seem to be
behind
the Ranger desks. Ask the right questions and you will be rewarded with the paper you seek.
Olympic NP's newspaper
The Bugler
, lists summer park programs. During our visit, Kodak was offering Photo Walks and Demonstrations at various times and locations. None of which coincided with when and where we were. There are campfire programs at each of the developed campgrounds, but not daily. Check
The Bugler
to find your nearest Ranger-led learning opportunity.
Backcountry camping at Olympic NP is no joke. Weather conditions are as variable as the tides. Both phenomenons must be watched diligently, especially if you are hiking along the miles of the Park's rugged coastline. The Olympic Wilderness Trip Planner is a free and very helpful newspaper that we found at the USFS/NPS Information Station in Forks, Wash. Float logs and magnetic declination are terms that we had not known before coming to Olympic. The park literature probably doesn't intend to intimidate would-be hikers, but it did. Do you know the
ten essentials
? You will by the time you leave Olympic NP.
Here is a puzzler: The most recent version of the Olympic NP Park Pamphlet is much less helpful than an older one that we picked up before entering the Park. Our 2003 pamphlet noted the mileage and some of the more popular backcountry camps along most of the Park's interior trails. It also had a photographic explanation of each of the Park's ecosystems, from Coast to Glaciers.
The 2004 edition eliminates the mileage and camp markers from its map and opts for a cartoon rendition of the Park's best features. We have no idea why.
FUN (5/10)
We hope that our disappointing Olympic NP was the exception rather than the rule. We began our trip intimidated by the Park's size and unsure of what we could do. Our aim: spend a night at a beautiful beach campsite, gather our thoughts and go from there. Instead, the raucous crowd kept us up for most of the night and we emerged from our tent with lasting headaches and irritable demeanors.
The misty, dark, cool weather should have come as no surprise. Had we forgotten its geographic uniqueness, names like Storm King Information Center, Hurricane Ridge Visitor Center and Hoh Rain Forest Visitor Center should have reminded us of the depressing weather. But somehow we were fooled by sunny Aberdeen weather forecasts; that micro climate has nothing to do with the nearby Olympic NP.
WOULD WE RECOMMEND? (6/10)
We are idiots. Our false expectations and lack of preparedness (everyone else hiking had gaiters and ponchos) diminished our fun.
If you are coming to Olympic NP, do your research ahead of time. Know where you want to go and what you want to do and bring all the right gear. If you are hiking, plan out a backcountry route, make those reservations ahead of time and enjoy the dense rain forest for yourself. If you are driving, plan a route that includes Hurricane Ridge and the Hoh Rain Forest and do not be surprised at how far apart they are.
The Olympic peninsula is a big place and requires a multi-day visit. The massive National Park is not the only draw. The quaint downtown of Port Townsend is reminiscent of a New England main street and boasts a slew of restaurants. Two reliable sources recommended the Makah Museum, located on the Makah Indian Reservation on the peninsula's northwestern most tip. It explores Native American life on the peninsula, a topic forgotten by the National Park Service. The ferry to Victoria, BC leaves from Port Angeles; we regret not visiting that grand Canadian city.
TOTAL

43

/80
www.usa-c2c.com
© 2005